(From the
Women's World Match Racing Tour
)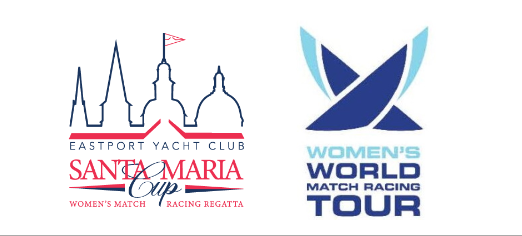 WAITING GAME AT SANTA MARIA CUP
Annapolis, USA (2 May 2023) – Sweden's Anna Östling and her WINGS Team ended the second day of the 2023 Visit Annapolis & Anne Arundel County Santa Maria Cup leading the first Round Robin stage with equal points to USA's Nicole Breault/ Vela Racing. Both skippers and their teams went on to win their first 3 races of the second Round Robin stage with a total 10 wins and only 2 losses. The Santa Maria Cup is the second stage of the 2023 Women's World Match Racing Tour.
It was a waiting game for the competitors and race committee today as the forecasted breeze of 9-14 knots failed to materialize causing a four-hour delay ashore. The breeze eventually filled in the late afternoon to allow the conclusion of the first Round Robin stage, and the first three flights of the second Round Robin stage.
Conditions were patchy with multiple lead changes as teams challenged against wind shifts and the ebb current out of the Severn River right in front of historic Annapolis Naval Academy.
"It was much lighter and shiftier than yesterday" said Anna Holmdahl White, mainsheet trimmer for the WINGS Team, "we had to try and keep things tight. Fortunately we had some good starts, but for some races we had to use some good passing lanes and dig into some past experience from sailing here."
"It was a challenging day with the shifty conditions out of the West and then the breeze moved to the Northwest" added Principal Race Officer Sandy Grosvenor. "The sailors certainly had some tight matches and we saw more penalties today than we saw yesterday."
Wednesday will see the conclusion of the round robin stages before the top four move into the Semi-Finals. At this point the points are close and nothing is decided.
Situated on the Chesapeake Bay at the mouth of the Severn River, 25 miles (40 km) south of Baltimore, Annapolis forms part of the Baltimore–Washington metropolitan area and was the capital of the United States for about 9 months during the War of 1812 while Washington, DC was aflame.
Racing continues tomorrow from 0900 Eastern Daylight Time with the remainder of the qualifying round robins before moving onto the knockout stages.
Results after Day:
1. Anna Östling 10-2
2. Nicole Breault 10-2
3. Celia Willison 7-5
4= Megan Thomson 6-6
4= Allie Blecher 6-6
4= Bridget Groble 6-6
7. Sophie Otter 5-7
8. Brooke Wilson 5-7
9. Janel Zarkowsky 4-8
10. Kristine Mauritzen 1-11
Day Two Highlight Video
Follow live results at
www.santamariacup.org/results
For information on the Santa Maria Cup
https://www.santamariacup.org
For information on WWMRT, visit
womenswmrt.com
See the WWMRT website for more information and photos:
https://womenswmrt.com/events/santa-maria-cup/
Teams Competing:
Anna Östling, Anna Holmdahl White, Linnea Wennergren, Annika Carlunger - SWE
Nicole Breault, Molly O'Bryan Vandemoer, Dana Riley Hayes, Maggie Bacon - USA
Celia Willison, Alison Kent, Charlotte Porter, Serena Woodall - NZL
Sophie Otter, Hebe Hemming, Amy Sparks, Hatty Ward - GBR
Megan Thomson, Anna Merchant, Lisa Dartnall, Maeve White - NZL
Janel Zarkowsky, Rose Edwards, Meaghan MacRae, Abigail Preston - USA
Kristine Mauritzen, Emilie Lauritzen, Christina Albers Andersen, Katrine Ejlev - DEN
Allie Blecher, Alicia Blumenthal, Beka Schiff, Katja Sertl - USA
Bridget Groble, Morgan Collins, Katherine Klempen, Samantha Foulston - USA
Brooke Wilson, Gemma Burns, Tiana Wittey, Emily Keg - AUS
About Santa Maria Cup
Santa Maria Cup is the second stop on the 2023 Women's World Match Racing Tour. Returning after a 10-year break, the 2023 regatta will be the 22nd running of this event. Past competitors in this series include Olympic sailors, Rolex Yachtswomen of the Year, and other international stars of women's sailing. Some of the American past winners are JJ Isler, Dawn Riley, Liz Baylis, Jody Swanson, Betsy Alison, Cory Sertl, Sally Barkow, and Anna Tunnicliffe. Originally a minor offshoot to the Columbus Cup professional match racing regatta series in Baltimore, Santa Maria Cup relocated to Annapolis in 1993 when Eastport Yacht Club (EYC) became the organizing authority.
About Visit Annapolis & Anne Arundel County
Visit Annapolis and Anne Arundel County (VAAAC) is a nonprofit, membership-based Destination Marketing Organization (DMO) that generates revenues for the local economy by promoting Annapolis and Anne Arundel County to business and leisure travelers across the country and around the world. Anne Arundel County's official DMO executes strategic marketing, sales, and media campaigns that position the destination's portfolio of brands in key markets to bolster the economy and enhance employment opportunities. www.visitannapolis.org
About Maryland Sports Commission
The Maryland Sports Commission is the go-to resource for the sports events and sports tourism industry in Maryland. Our mission is to enhance Maryland's economy, image and quality of life through the attraction, promotion, retention and development of regional, national and international sporting events.
About Women's World Match Racing Tour
The Women's World Match Racing Tour was launched in 2022 to continue the hugely successful legacy of the WIM Series (Women's International Match Racing Series) providing a global match racing series for female sailors. The name of the WIM Series has been changed and re-launched as the Women's World Match Racing Tour with it's continued mission to expand and strengthen global match racing and promote opportunities for competitive women's sailing at every level. The Women's World Match Racing Tour is the world's first and only professional sailing series for women providing a valuable pathway for aspiring female world champions in the sport of sailing.
womenswmrt.com