(From the
Women's World Match Racing Tour
)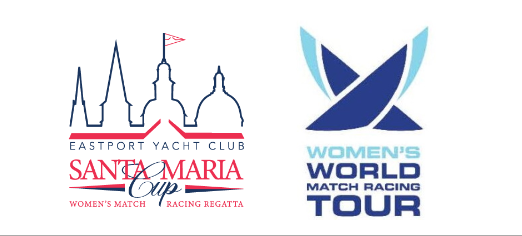 LIVELY CONDITIONS FOR RETURN OF SANTA MARIA CUP
Annapolis, USA (1 May 2023) – A fresh breeze greeted the opening race day of the 22nd Visit Annapolis & Anne Arundel County Santa Maria Cup today, the second stage of the 2023 Women's World Match Racing Tour from 30 April – 4 May. The event features ten of the best all-women match racing teams from six countries including USA, Sweden, Denmark, Australia, New Zealand and the UK.
Starting the first of two round robin qualifying stages, teams had to battle shifty conditions and gusts over 20 knots on the race course which was set directly in front of Eastport Yacht Club, host of the event.
Top seeds Nicole Breault (USA)/Vela Racing and Anna Östling (SWE)/ Wings Sailing top the leader board at five wins each after seven races.
Also tied for the lead with five wins is match racing newcomer Brooke Wilson (AUS) representing the Royal Sydney Yacht Squadron with her Amphitrite Racing Team of Emily Keg, Gemma Burns, and Tiana Wittey.
"We had a really awesome day on the water" added Amphitrite Racing crewmember Gemma Burns. "After last week in San Francisco at the Casa Vela Cup, we have obviously spent more time bonding as a team and more time in the [J22] boats which has made a big difference in our development and there is also less tide here in Annapolis which has helped!"
Vela Racing's Molly O'Bryan Vandemoer added "It was incredibly shifty today and no lead was comfortable at any point. You could easily be overstood to a windward mark and then within seconds not make it by a mile, it was very challenging all day."
2023 marks the long-awaited return of the Santa Maria Cup after a 10-year break. Past competitors of the event series include Olympic sailors, Rolex Yachtswomen of the Year, and other international stars of women's sailing. Some of the American past winners are JJ Isler, Dawn Riley, Betsy Alison, Cory Sertl, Liz Baylis, Sally Barkow, and Anna Tunnicliffe. The Santa Maria Cup relocated to Annapolis in 1993 when Eastport Yacht Club (EYC) became the organizing authority.
Day One Highlight Video
Follow live results at
www.santamariacup.org/results
For information on the Santa Maria Cup
https://www.santamariacup.org
For information on WWMRT, visit
womenswmrt.com
Racing continues tomorrow from 0900 Eastern Daylight Time.
See the WWMRT website for more information and photos:
https://womenswmrt.com/events/santa-maria-cup/
Teams Competing:
Anna Östling, Anna Holmdahl White, Linnea Wennergren, Annika Carlunger - SWE
Nicole Breault, Molly O'Bryan Vandemoer, Dana Riley Hayes, Maggie Bacon - USA
Celia Willison, Alison Kent, Charlotte Porter, Serena Woodall - NZL
Sophie Otter, Hebe Hemming, Amy Sparks, Hatty Ward - GBR
Megan Thomson, Anna Merchant, Lisa Dartnall, Maeve White - NZL
Janel Zarkowsky, Rose Edwards, Meaghan MacRae, Abigail Preston - USA
Kristine Mauritzen, Emilie Lauritzen, Christina Albers Andersen, Katrine Ejlev - DEN
Allie Blecher, Alicia Blumenthal, Beka Schiff, Katja Sertl - USA
Bridget Groble, Morgan Collins, Katherine Klempen, Samantha Foulston - USA
Brooke Wilson, Gemma Burns, Tiana Wittey, Emily Keg - AUS
About Women's World Match Racing Tour
The Women's World Match Racing Tour was launched in 2022 to continue the hugely successful legacy of the WIM Series (Women's International Match Racing Series) providing a global match racing series for female sailors. The name of the WIM Series has been changed and re-launched as the Women's World Match Racing Tour with it's continued mission to expand and strengthen global match racing and promote opportunities for competitive women's sailing at every level. The Women's World Match Racing Tour is the world's first and only professional sailing series for women providing a valuable pathway for aspiring female world champions in the sport of sailing.
womenswmrt.com